A Pandemic Pentecost
Here in the United States, the president said that the country would be reopening by Easter. He was certainly optimistic. But, after seeking the advice of medical professionals and epidemiologists, as well as other counsel, he changed his date, and here we are in May still debating when will be a good date to start reopening the country and lessening restrictions. Ultimately, I guess, the real end of this pandemic will be when we have a vaccine. Given that, there is a lot of debate about when we will have a vaccine.

I have been home and in my "bedroom office" since March 17. This "isolation" has been called a quarantine, a lockdown, and staying safe. In some places in the United States, the governments are enforcing, not only stay home orders but wearing masks and social distancing, with large fines if the rules are not followed. There are already battles in the courts about whether the government has the authority to enforce these "regulations."

I prefer to call my "isolation" a "seclusion."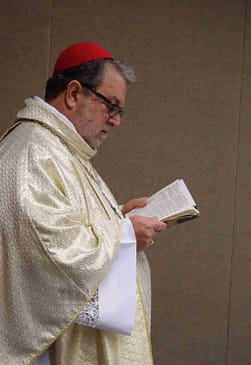 Certainly the fact that there is a coronavirus and a pandemic has influenced my decision to stay home. I am sure I would not have chosen it by myself, especially since I am presently confined with three children – a two-year-old, a four-year-old, and a thirteen-year-old (a quarantween).
So early on I decided that I would offer this time to the Lord and work to build into my schedule more time for prayer, study, meditation, inward digestion of God's word. It would become a time to remove the things of the world and seek the Lord Jesus, knowing in this pandemic, and always, He was seeking me.

I have been drawn to the resources of the internet, especially on social media. I have been able to pray with people, attend virtual Eucharists, and listen in on the preaching of so many men of God. I have been so encouraged and edified by these words. I have even gone out in social media world and I am live streaming a personal reflection on Scripture at 1 p.m. daily.

Early on I was struck by the hoarding of toilet paper by many Americans. I am still not sure what that was all about. But it struck me as extremely funny and people began sharing memes about the "Toilet Paper Crisis." There is even a Facebook group based on the "Crisis." I saw advertised tee shirts that said, "I survived the 2020 Toilet Paper Crisis." I was tempted to purchase that tee-shirt but decided not to because the real crisis is the death of thousands of people from this disease, and there is nothing funny about it.

However, I am sure there will be tee shirts, coffee mugs, bumper stickers, and other items put up for sale, after the pandemic passes. They will say, "I survived COVID 19," or the "coronavirus," or the "Pandemic." This pandemic will be a defining moment for many people as other historic events like 9/11 are defining moments.

In prayer, it came to me that this time needs to be more than "survival." If I made it a time set apart for the Lord, it could easily become a time of "revival." I didn't want to come out of this time merely having survived, so that when the "crisis" ends I or the church go back to normal, or the Church got back to normal (perhaps with the addition of new technology). I wanted it to be a time when I had turned away from all those things that have distracted me from picking up my cross and following Jesus.
I am seeking a new and renewed personal Pentecost. I am praying that our Churches encounter a renewed Pentecost with fire and wind and zeal for the Lord Jesus. Zeal that will force us out of "Upper Rooms" and into the streets. A Church proclaiming that Jesus is the Savior and that all who call upon Him will be saved.

Having gone out on social media with my own live stream and talking to others, we have discovered, by the number of views, that there is a hunger for the Gospel. One Bishop is hosting a morning prayer meeting and thousands from around the world are joining him in prayer. Small churches that have consistent attendance of 30 to 50 people are having hundreds join them via Facebook or YouTube. Sometimes people, like myself, are listening to several sermons a day or attending online bible studies or small groups. And, people who are not members of their Church are joining in on the study. It is a new day.

Looks like Pentecost Sunday will be different (like Easter). But let us pray that the Holy Spirit finds us as empty vessels ready to be filled again. Let us be found ready to be used by the Lord Jesus, and to be empowered with the spiritual gifts for the building up of the Body of Christ, and for the evangelization of the world. Let Pentecost be the beginning of a new day.

I continue to pray for each of you.

Under His mercy,

+Craig Bates
ICCEC, Patriarch

A Pandemic Pentecost, by Archbishop Craig Bates