A Priest in the Legislature?
"What are you doing serving in the Legislature?" she asked me. "Don't you know that politics is dirty?"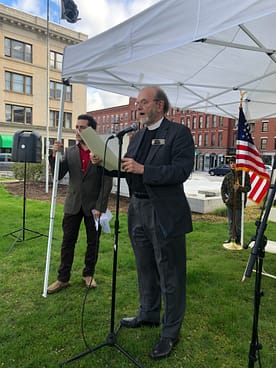 I thought I could duck the question when I was first asked that. The person asking seemed to be a flake. But then I kept getting asked that, and by persons who were not flakes and genuinely concerned for me and for other Christians holding political office.
So I thought about it, read Scripture, and consulted the wisdom of other Christians in office. Here's what I came up with:
"Politics" means the business of the polis or the state. It's doing government.
Creedal-Orthodox American Christianity ever so rightly emphasizes that an individual must come to Christ as personal Lord and Savior. Good deeds do not save you. Even Church membership is, by itself, insufficient. Being part of a godly group is not enough. You, as an individual, must surrender to Jesus.
But American Christianity doesn't know when to stop when it comes to the individual. Along with many others, the motto seems to be "Ain't nobody gonna tell ME what to think or do." As a result, it is estimated that twenty-five million Americans claim to be born again and are not part of a visible local church congregation.
We know from Scripture that God has several ways in which He deals with us: as individuals, as families, as local churches, and as nations.
As to politics being dirty, note how often God implanted a key person in the power structure: Joseph in Pharoah's court, Esther in the Court of Ahasuerus, and Daniel in Nebuchadnezzar's court. God used each at crucial moments in the lives of the Jews. So God does embed people in political structures "for such a time as this."
We see God's purpose in redeeming politics and culture by what happened between Christians and Hollywood. For several years I was on the Board of Directors of the Christian Film and Television Commission in Hollywood as a speaker and writer.
I learned that in the 1920s, Hollywood stars and starlets were debauched, to say the least. The outcry grew to the point where studio heads asked churches to form a group to regulate the screens. They came up with the Motion Picture Production Code, which kept filth off the screens from 1934 to 1968. But then, the churches got tired of doing this and abandoned the work. You know what happened!
I do not believe God wants us to abandon territory to the enemy but seize it back for His honor and glory.
My purpose in running for the New Hampshire House of Representatives in 2016 was to be God's man in Concord (our state capital).
People asked me, "What right do you have to impose your beliefs on others?" My response is, "The same right anyone else has, including you."
I have kept before me the motto, "No compromise on truth. No compromise on love."
It's easy to be Pharisaical — truth but no love. But that repels rather than changes hearts.
It's easy to go along to get along — love without truth. But that does not change the things that are destroying individuals and society; hence, it is not even love.
As we all know, it's difficult to combine truth and love. To that end, I have asked several people who have known me long enough that they will tell me if they sense I'm going off this balance, to one side or the other.
In my third term, I now chair the House of Representatives Health, Human Services, and Elderly Affairs Committee. I try to run it under the exhortation to be "wise as serpents, harmless as doves." Most of the time, on those bills that are not Christian moral issues, I am a convivial chairman, bi-partisan whenever possible, relishing in the fun of being a legislator.
On a few occasions, I will, without getting angry, use any parliamentary move, even the obscure ones, allowed me as Chairman to get a good bill out of my committee, and such I did with a few Pro-Life bills.
And now New Hampshire has a fairly strict 24-week prohibition on abortion. While some states are way better than that, what is significant is this is the FIRST Pro-Life bill passed in New Hampshire. While many states have drifted from moderate Pro-Life stances to Pro-Abortion stances, New Hampshire is the only state that has gone the other way — from permissive to somewhat restrictive.
By the grace God has given me as a flawed human being, enough of His love has shined through me that two legislators have come to Jesus as Lord and Savior. I baptized one, conditionally baptized the other, and am honored to see them at Trinity Church, Kingston, NH, nearly every Sunday.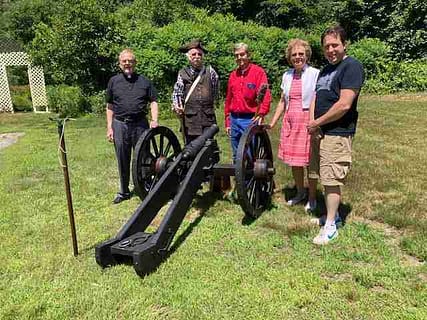 People sometimes ask me, "It's a waste of time trying to get laws passed. What you need to do is change people's hearts."
No. The answer is, that we need to do both.
Someone asked Dr. Martin Luther King the question, "Do you think more laws will make the white bigot love the black man?"
King's response was, "No. But it might stop many our brothers from being lynched."
While we seek to educate and win people's hearts to a Pro-Life stance, we also seek to stop the killing of children in the womb.
Here's what I suggest you might do.
Pray. No good thing of God has ever happened without His people falling to their knees.
Support good (not perfect) candidates. Who is running in your primaries (if you haven't held them yet)? Who will be running in the Fall? Do you see a good and godly candidate? Ask what they believe about abortion. If they're an incumbent, find out their voting record. If this person is solidly pro-life, support him or her. If you do not have such a person in your district, find one in another district and get on board.
*Get to know your state and federal legislators. Periodically call or write them. The key to such communication is *be brief, *be polite, *and be on topic. Believe me; legislators listen to their constituents.
*And maybe even run for office. If you are thinking of doing so, please contact me, even now for 2024, and I'll happily walk you through the process. While the specifics differ from state to state, many of the things you'll need to know about running are common across the country.
God is raising up an army for such a time as this.
The Hon. the Rev. Canon Mark A. Pearson, MA (Oxon), DMin.
Rector, Trinity Church, Kingston, NH
Honorary Canon, the Philippine Episcopal Church, and the Charismatic Episcopal Church
Member for District 34, the New Hampshire House of Representatives
Chairman, Health, Human Services, and Elderly Affairs Committee of the House
Chairman, Joint Legislative Department of Health and Human Services Oversight Committee
Chairman, the NH Commission for the Deaf and Hard of Hearing
Chairman, the Advisory Council for Deaf and Hard of Hearing Children
Chairman, Ethical Advisory Committee to the Department of Health and Human Services